Jump to recipe
It's been about a month since my last post, got too caught up the festivities and extended the partying season. I mean my party season last all year who doesn't love a good boogie and few tequilas, but hey gotta needed to justify the time it's been since I last posted. (Being drunk seems like a legit reason).

Anywho enough of my excuses and my confession of no self-control, life is so much more fun when you're not in control, or stressful depends on how you look at it. Back to the main point of this post the food! Today friends, I bring to you a pimped tuna pasta salad. Lately, I've been 95% vegetarian but I bloody love tuna and tuna pasta salads. They're just divine and this one is just banging, I may be overconfident but I'm a fan and its mate approved.

This tuna pasta salad is super easy to make, takes no time at all and you can make a big batch so you've got your lunch sorted for a few days. Meal prepping at its finest. This recipe uses Greek yogurt instead of mayonnaise and personally, it's a revelation I recommended. If you wanted to make this dairy-free you could use coconut yogurt I'm yet to try this but now that I'm thinking about it, I think it would add a great flavor. Note to self, try out coconut yogurt.

The beauty of this dish is you can swap in out the veggies to what you have in the fridge. Beetroot would be a good addition, kale, peas mix it up and experiment with different flavors that after all is the beauty of cooking. Of course, I like to finish it off with heaps of chili flakes and maybe a drizzle of chili oil.

The next time you're feeling salady and want to venture out from your basic tomato, lettuce and cucumber give this one a wurl and hopefully, you froth it as much as I do.
Keep on cooking good looking,
Love Char.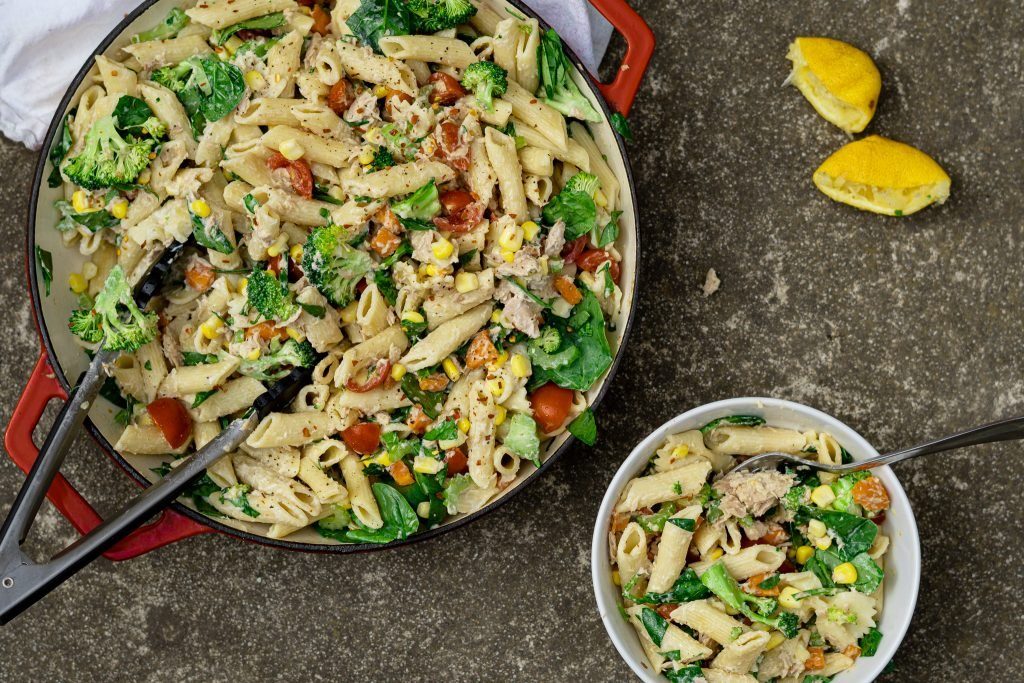 Fresh,light and easy tuna salad to pimp up your lunches.
Ingredients
500g of penne pasta (use whatever shape you like hey if you wana make It super fun use dinosaurs or alphabet.
400g tuna sustainably sourced (add more or less depending how tunery you like it)
2 stalks of celery
1 cucumber
1 carrot
Handful of cherry tomatoes
1 tin of sweetcorn
1 red onion
Handful diced spinach
Half a head of broccoli floret
Half a tub of Greek yogurt
Juice of two lemons
Seasoning:
Onion salt
Garlic salt
Oregano
Mustard powder
Black pepper
Chili flakes (heaps)
Instructions
1. Cook pasta on the stove to packet instructions.
2. Whilst the pasta is cooking chop up all the veggies, I like to chop them up real small in to tiny bite sized pieces – but if your prefer chunky go chunky. Don't forget to give your veggies a quick rinse.
3. Mix together the Greek yogurt with the lemon juice and all the herbs and spices.
4. When the pasta is ready drain and place in the bowl add the tuna, sweetcorn and chopped veggies to the bowl – grab the largest one you have or you might have pasta flying all over the shop when you're trying to mix everything together.
5. Poor in the Greek yogurt mixture and stir everything together, serve into individual bowls or eat the whole thing out of the big bowl!
6. Finish of by topping with heaps of cracked black pepper and chili flakes.
Notes
Mix and match the veggies for what you have in the fridge – great way to use up veggies you have left over in the fridge.
https://www.babestreetkitchen.com/pimped-up-tuna-pasta-salad/