What up party people, today from the babe street kitchen I bring to you one of my all-time favorite cake/bread things, Banana Bread baby!
I bloody love anything banana as a kid I'd easily polish through a bunch of bananas a day, I was a little cheeky monkey - see what I did there? Lame I know but thought it might get some chuckles.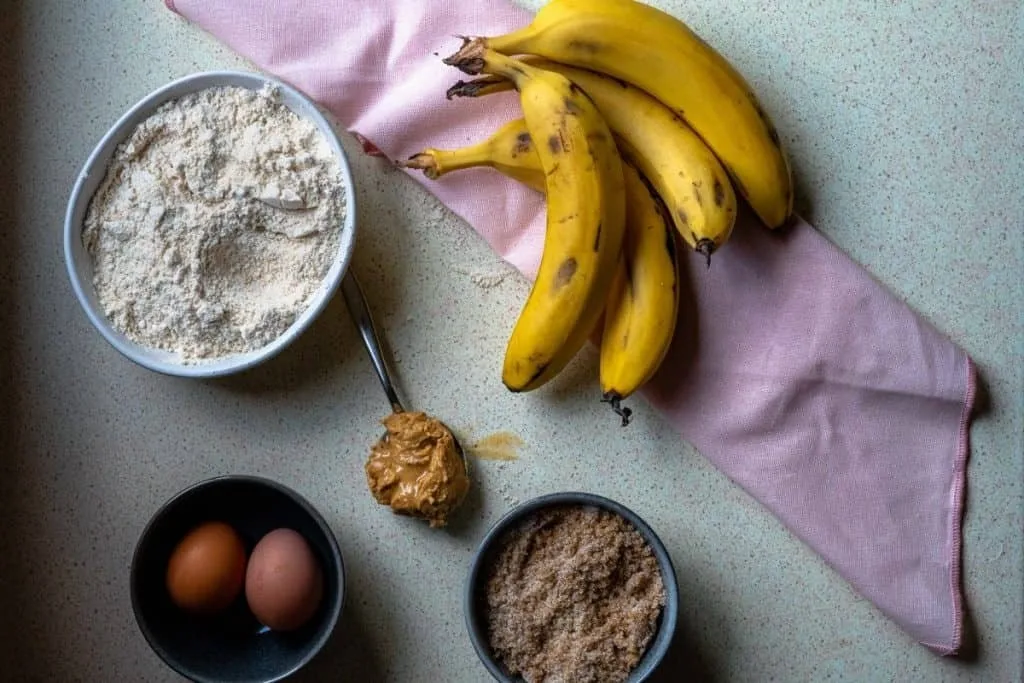 This Banana bread is on the healthier side ish I mean it's got 4 bananas in it so that counts as one of your five a day right? if only. To make the recipe I use a food processor to blend up everything, it's just easier and super quick to whizz it all up. If you don't have a blender or a food processor you can do it by hand it just takes more time I find, but you may be a whizz at it.
The recipe calls for oat flour, oat flour is super easy to make just blitz some rolled oats in a blender and boom you've got oat flour. One cup of rolled oats will make 1 cup of oat flour. I also add in almond flour however if you don't have that just swap it for more oat flour or AP flour depending on what you have available.
To go that bit extra we created a layer of banana bread and peanut butter in the middle. To do this pour half the mixture into the pan, slice a banana lengthways and place on top of the mixture, blob the peanut butter then pour the remainder over the top.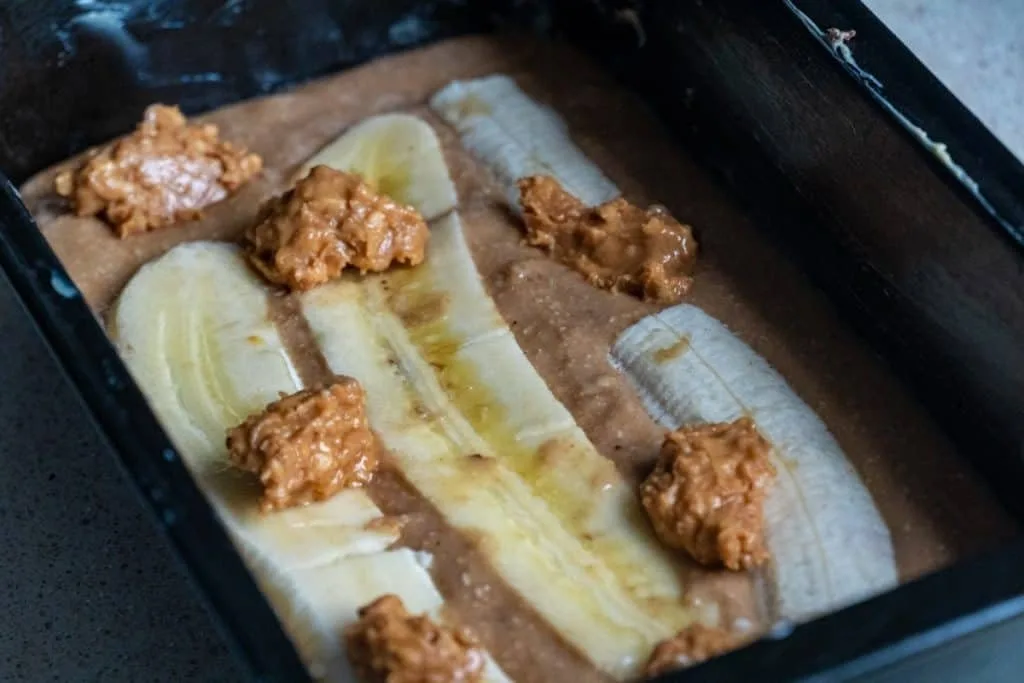 Banana bread takes about 40 minutes to cook in the oven. I know it seems like a long time but it's worth the wait. While it's cooking in the oven fit in some yoga, have a dance in your kitchen, crack open a beer whatever you feel like hunni bee.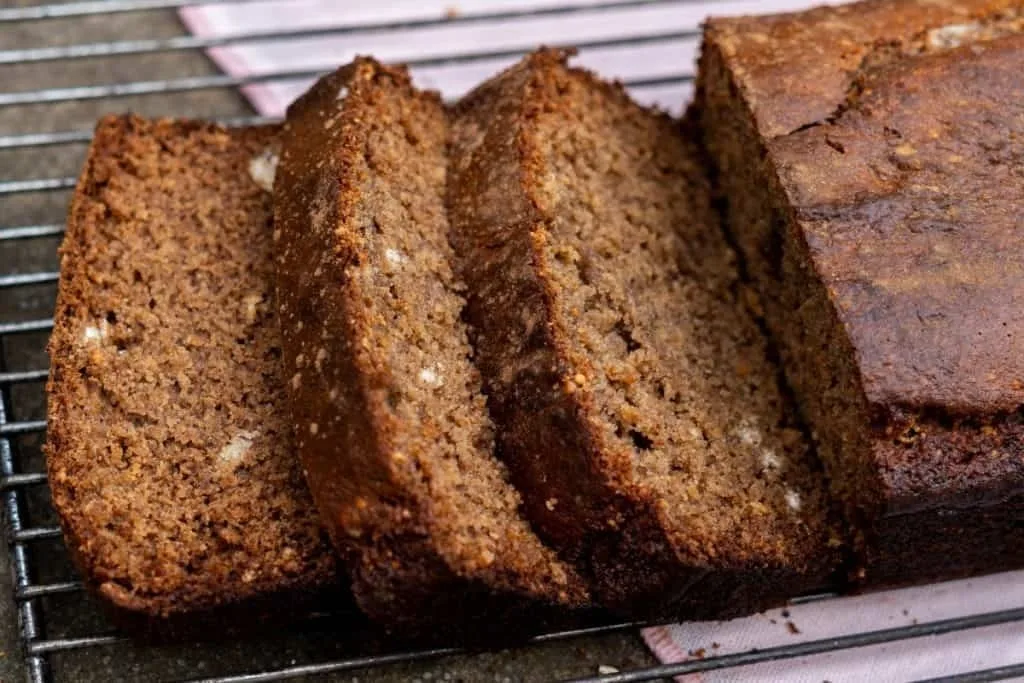 Best served warm with some butter slathered over the top. Or if you'd prefer to turn your bread into the ultimate banana dessert, serve warm with some banana ice cream! trust me it's banalicious darling. (I'll stop with the banana puns it's cringe I know).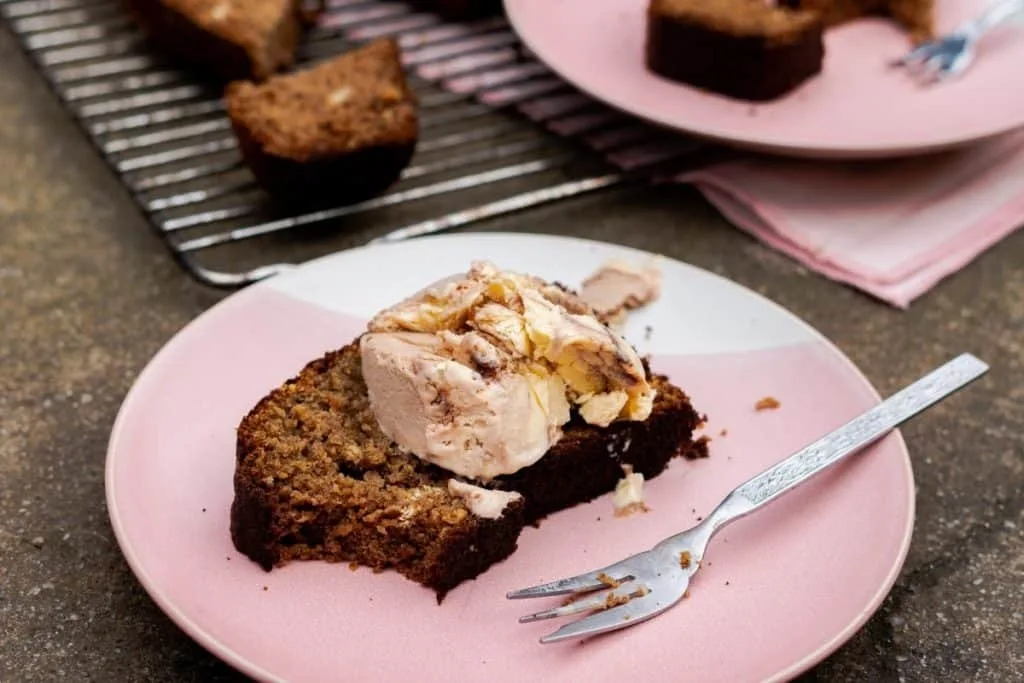 Give it a whirl your next Sunday bake, have fun with it, and most of all keep on cooking good looking.
Love Char x
Healthy-ish Banana Bread.
This bananlicious banana bread is the perfect treat for those rainy afternoons, or for an afternoon tea. The perfect balance of banana and sweetness.
Print
Pin
Rate
Equipment
Food processor

long cake tin
Ingredients
4

small Bananas

1

cup

oat flour

½

cup

almond flour

½

AP flour

1

tbsp

of baking powder

1

tbsp

of baking soda

pinch

of salt

½

cup

of sugar

½

cup

of brown sugar

3

large eggs

2

tbsps

of olive oil

¼

cup

peanut butter

1

tbsp

of vanilla essence

2

tbsp

cinnamon powder
Instructions
Blend together the bananas, eggs, and olive oil in a food processor until it becomes a smooth liquid.

Add in the sugar to the mix and continue to blend for a couple of minutes until the sugar is incorporated.

Whilst blending the liquid in a bowl combine the flours with baking powder, soda, salt, and cinnamon.

Incorporate the flour mix into the processor and blend all together into a batter.

Pour the mixture into a well-buttered or oiled pan and swirl through the peanut butter

Bake at 180 degrees for 35 minutes or until a toothpick comes out clean.

Best served warm with some butter or goes amazingly well with banana ice cream.
Notes
Use well-ripened bananas like -when you go to throw out banana because they look almost gone use them, babies, for the banana bread.
To make oat flour just blitz up some rolled oats in a blender or food processor for a couple of minutes.
To make Gluten Free use GF AP Flour
To make nut-free use an extra ½ cup of oat flour instead of ½ cup almond flour and omit the peanut butter
Nutrition